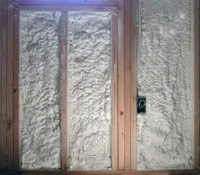 There is no better home insulating material than spray foam insulation. SPF Insulation can seal your home from air and moisture intrusion, save on costly utility bills, strengthen your home, and can protect your family's health from dangerous mold.
SPF adheres to just about everything so it can be installed over concrete, wood, steel, and most existing roof systems which saves on the expense of roof removal and landfill fees. SPF Roofing installers can spray apply a tapered roof system with the foam which eliminates the need for costly tapered insulation systems. The cants and vertical wall terminations are also spray applied making them an integral part of the roof system and minimizing additional component costs.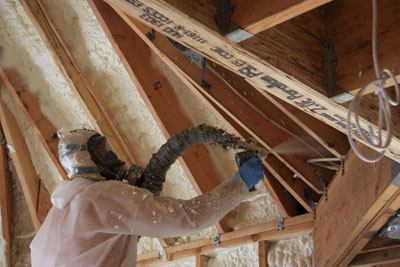 Did you know?
Air infiltration can increase energy costs in buildings 10 to 40%.

SPF reduces air infiltration allowing insulation to be more effective and reducing the demands on HVAC equipment.

SPF reduces moisture infiltration by reducing air leakage.

SPF adds structural strength to walls and ceilings.

SPF reduces sound transfer into buildings. Most sound from outside is carried into the building through cracks and air leaks. SPF, by stopping the air infiltration, also helps keep sounds out.

SPF minimizes dew point problems and condensation.

SPF resists heat transfers through air infiltration regardless of flow direction.

SPF provides reliable R-values under the most extreme conditions, and dependable and durable protection against heat loss or gain.

SPF minimizes thermal bridging, which can cause higher energy usage and cost.

SPF out-performs conventional insulation materials because they (conventional insulation materials) trap still-dry air and if that air moves or becomes wet, the thermal resistance can drop by 50%.

According to ASHRAE, a 3% void area in a wall cavity represents a 15% reduction in wall R-value.
Eliminate Drafts - Live in a More Energy Efficient, Comfortable, and Healthier Building...
SPF Insulation Benefits:
SPF Roof Systems Benefits:

Stops air and moisture infiltration

Makes your home more comfortable

Saves on energy costs

Adds strength to the building structure

It is permanent and will not sag

Keeps dust and pollen out

Eliminates Ice Daming

Improves Air Quality

Reduces capacity requirements, maintenance and wear of HVAC equipment

Meets all building codes

Leak free monolithic seal over your entire roof deck

Self flashing

High insulation value / rapid payback with energy savings

Strong adhesion and wind uplift resistance

Weather resistant

Lightweight and high strength

UL and FM approved systems
SPF Saves You Money and Pays for Itself
SPF home insulation saves on energy costs and lowers utility bills. SPF is used to seal the entire "building envelope" of your home to prevent air and moisture infiltration. The US Department of Energy (DOE) studies show that 40% of your home's energy is lost due to air infiltration. This air infiltrates the home in the form of drafts through walls sockets, windows and doorways.
Often times no expensive building wrap or additional vapor protection is required during construction when using SPF, saving money yet again.
Nothing Seals and Protects an Attic Better...
Strong, Tight Walls Stop Air Leakage and Save Money...
---
For More Information on Foam Insulation: